Learn Logic Pro X Course Creator Daniel Contreras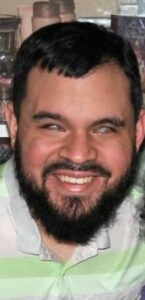 My name is Daniel Contreras, and I am a blind musician from Texas. I have been playing the keyboard since I was a little boy, and I ventured into music-making for the first time at the age of 12. I have always had an interest in music software since my first exposure to a software by the name of Fruity Loops. During my time in college/university studying classical piano, I also took time to learn Garageband, which eventually led me to Logic Pro X. I now use Logic on a regular basis for a variety of purposes involving music composition and music production. 
Course Description
If you are new to Logic Pro, or you want to have a firm understanding of this software, then this 5-part course is just what you need. This course will cover the essential components of Logic. From starting a new project, to a detailed step by step process for creating automation, this course will cover the necessary tools and concepts in order for you to have great success with this software. Some of the subjects include: 
• The different types of tracks and their purpose 
• Recording and editing midi 
• working with audio takes 
• How to use Logic's Drummer 
Get acquainted with Logic Pro today. 
purchase 1 hour or bundles of hours with a discount 1 on 1 training with Daniel Contreras Lesson
Daniel Contreras is now available for piano/keyboard and music theory lessons. With over four years of experience in teaching piano to students of a wide variety of ages and backgrounds, I would like to offer my services as a piano and theory teacher. I completed my bachelors in piano performance at Sam Houston State University in 2016 and completed my graduate studies in 2018. Though the main focus of my collegiate studies consisted of classical piano, I also spent several years as the pianist for the top level Jazz band at my university. In addition to my university studies, I also have experience in other genres such as latin and contemporary pop. I can also offer training in aural skills that can help you in your sensibility to hearing chords and melodies. Here are some of the subjects that I cover:
• Scales and arpeggios
• Repertoire )depending on goals and level of student)
• Music theory for analysis or composition
• Aural skills (ear training)
• Beginner and intermediate Jazz improvisation
• Jazz harmony
Daniel Contreras Lesson
$40.00
Daniel Contreras Lesson 2 Hour Bundle 70.00
$70.00
Daniel Contreras Lesson Bundle 3 hours 100.00
$100.00
Purchase lessons via Paypal