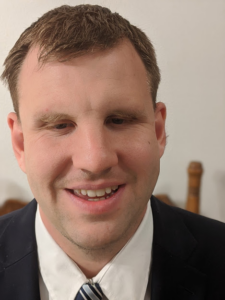 Dr. Skylar Covich has been totally blind since birth. He has been
using JAWS and other adaptive technology since his childhood in the
1990s, and he has 10 years of experience as a college classroom
instructor. He has a BA in Politics from Saint Mary's College of
California and a PH.D. in political science from the University of
California Santa Barbara. He lives with his wife in Ventura,
California.
Dr. Covich hopes that this course will explain the most important
feature of JAWS in a straightforward way which will work for everyone
from blind children, to people who might be losing their sight later
in life and want to see if JAWS is right for them, to long-time JAWS
users who might have some gaps in their training. That last category
is important; because Dr. Covich was trained in JAWS a long time ago,
he did some research to make sure he understood all of the features in
the new versions that he doesn't frequently use. The course focuses on
how to install JAWS independently, before discussing how JAWS can
navigate Windows, Microsoft Office and the Internet, especially
explaining the importance of paying attention to JAWS's capability
about of providing hints about shortcut keys.